01.11.2014 - 18:31 in portfolio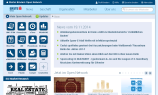 Seven countries, 44k users in 60 branches. This is the social intranet of the Erste Group.
Role: Technical project lead (Gentics), requirements engineering and developer
Technology: AngularJS, Java, JSR-286, Portlets, Apache Lucene, Apache Velocity, Oracle Database
With a user count of over 44k and over 100.000 central contents that can be customized and extended by each of the 60 branches, the social intranet of the Erste Group was one of my bigger projects. Together with the s IT Solutions, the in-house IT service provider of the Erste Group, we optimized for usability and performance.
Wikis, Blogs, direct editing of contents in the portal and a portal wide search are only a few of the exciting features of the social intranet, which provides all the information for the daily work of Erste Group's employees.