03.01.2015 - 18:31 in portfolio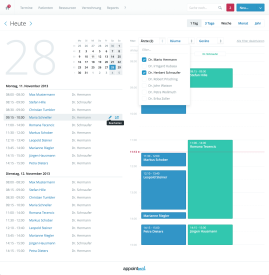 Appointmed is a cloud-based, full-service healthcare solution on an Angular.JS and Java stack.
Role: Co-Founder and frontend developer
Technology: AngularJS, TypeScript, Gulp, Java, PostgreSQL
Appointmed is a cloud-based, full-service practice software solution for comprehensive administration of all tasks in an innovative healthcare provider's surgery:
appointment scheduling
resource management
integrated billing system
full-fletched electronic patient records
and many more
Over the past year I have been working passionately together with my colleagues on building the best application for our client's needs. If you are interested in the project, pay us a visit at https://www.appointmed.com.
Some more words in german Mit appointmed hast du als Physiotherapeut alle Funktionen bei der Hand, die du für die Administration deiner Praxis brauchst. appointmed ist die einfache Praxissoftware für Physiotherapeuten. Erfahre mehr auf unserer webseite.