09.02.2015 - 18:31 in travel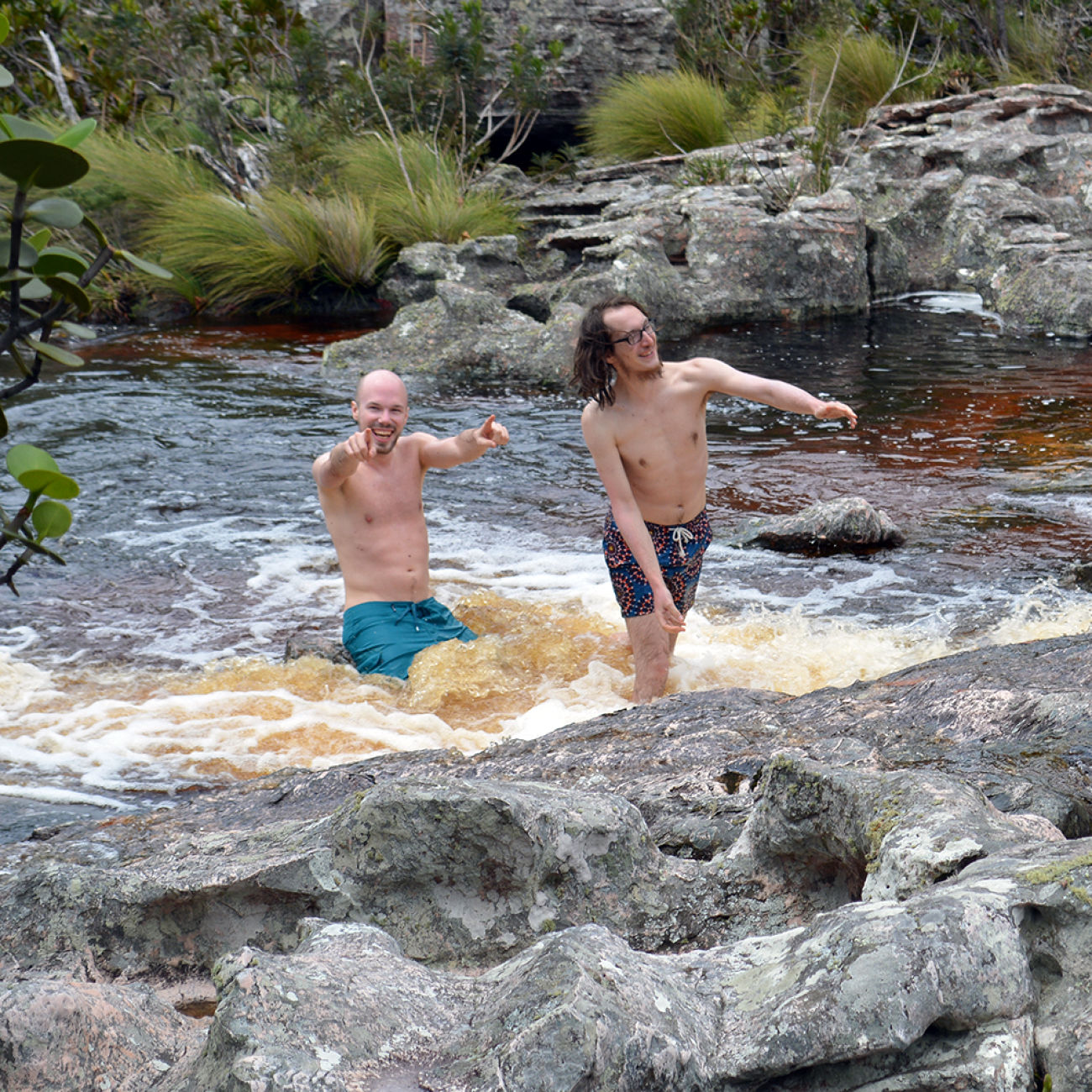 Sometimes doing the expected is just not cutting it.
Being a real Supnig
Normal people would probably take some time to rest after finishing a 33 hour journey that already started out with sleep deprivation. Not so if your family name is Supnig! We were greeted with a short breakfast and a shower and then went for a hike in 30°C hot and very humid air. If I only had known beforehand what was in store for us, I probably would have stayed at home in the hammock. We started from Capao and went uphill on an increasingly steep path that has been used by people back in the day when they were sick with the diamond fever. This landscape not having very high mountains, still presented a charismatic view with all the unique hills that looked as if they were cut at the top. The reward for climbing this hill was soon presented to us when we saw this little river with a deeper part that almost looked like a pool. It did not take long and we were in our bathing trunks and in the water, which was surprisingly warm. Now again normal people would inform themselves about the directions and if in doubt would at least take the way back that they took to get to where they were. Not so if your family name is Supnig... so we happily strolled on down the other side of the hill and soon the narrow path vanished and we were fighting our way through the think vegetation. This was still a lot of fun because we were looking for an adventure and that was what we got. Time went by and we were still searching for our way that should lead us around the next hill and back to Capao. When finally we stumbled across what looked like a street, we were kind of relieved and sat down to have some food and fresh mangos directly from a mango tree. After walking along the street for some time, we realized that it was leading in the wrong direction but we still were so happy about that road that our stubborn heads let us carry on walking it for quite a while. A look on our watches told us that it would soon be dark and we were still no way near where we supposed to be. We decided to turn around and try our luck at the intersection of another narrow path we crossed way back on the road. This narrow path took us across another stream and lead us on a platform that looked as it was taken out of another world and planted in the middle of this brasilian semi jungle. It had these bushes that just started to grow again after something that looked like a big forest fire had taken them down. Luckily we packed head lamps and torches as we were soon walking in the dark. We carried on like this for at least another hour before we finally saw the first lights of Capao. We went straight to the market for some Fanta, that never tasted as good as on this day! 30 minutes after we came home it started to rain heavily and we were happy to be under our own roof again.
And now finally for some rest...